Welcome from the Pastor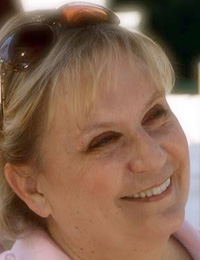 So, you found your way to the Valley of the Flowers UCC website! Perhaps you are new to the area and looking for a new church home or maybe you have never walked through the doors of a church and you are wondering what you might find if you dared give one a try. Hopefully this site will give you some sense of what to expect at VOTF.
Valley of the Flowers is a member of the United Church of Christ, a theologically progressive denomination committed to building "A Just World for All." While our faith is grounded in the ancient stories of our faith, we are always searching for new ways of understanding and interpreting scripture in light of 21st century experience and knowledge. We seek the Spirit of Jesus behind the written page, a Spirit that has the power to bring life to the dead and set the captive free. Our worship goes from about 10-11 on a Sunday morning, but our service BEGINS when we walk out the doors of our sanctuary.
VOTF is a church of "extravagant welcome" which means we love and accept people as we believe Jesus would. Our community reflects diversity in age, race, ability, sexual orientation, and gender. We don't tolerate diversity, we welcome and affirm it. We also value questions as much as answers.
Valley of the Flowers is not the right church for everybody and there are many wonderful churches in our area. But if these words speak to you, if they resonate with your beliefs, your hopes, and your experience…if you are looking for a community that embodies Progressive Christianity in "The 805"…then come check us out any Sunday morning at 10 am.
May God bless you in your journey wherever it leads you.
Jane Quandt, Pastor
Valley of the Flowers United Church of Christ
WHAT TO EXPECT ON YOUR FIRST VISIT – SOME FAQ'S
We know that walking through the doors of a new church can be nerve-wracking.  If you are coming to VOTF for the first time, hopefully the FAQ's below will make the experience more comfortable.
What should I wear?
While there are various expressions of what "casual" means, please pick a style of "casual" that is comfortable for you. Sunday morning worship at VOTF really is a "come as you are" party.
Where do I park?
There is plenty of room in the church lot next to the church or you can park on the street.
What happens when I walk through the door?
You will be warmly greeted by a "greeter" (seems like a good title for someone who greets) who may introduce him/their/herself to you and invite you to sign our guest book. It would be great if you gave us your email address so we can add you to our newsletter list, but that's up to you. This is a church of no pressure.
Is the Church Building Accessible?
The sanctuary and fellowship hall are entirely accessible, including a handicap accessible bathroom.
 Who attends worship at FCC?
Our church is diverse in many ways and this is something that we as a community value highly. Seated in our sanctuary you are likely to see people of difference races, ages, classes, abilities, sexual orientations, gender identifications, couples and singles. We really do mean it when we say, "ALL are welcome at VOTF."
What is the worship service like?
Our lovely sanctuary allows us to gather "in the round" which enables a casual style of worship. The service is projected onto a screen.  Included in the service are guided, silent, and participatory prayers. We have a wonderful pipe organ as well as a piano, and drums are often added to the music as accompaniment; guest musicians are also sometimes included. We sing traditional hymns as well as more contemporary music and our choir regularly sings an anthem. (We are blessed with wonderful acoustics in our sanctuary.) The sermon is about 15 – 20 minutes long and the entire service normally runs about an hour. Communion is celebrated on the first Sunday of every month and the communion table is open to all people at our church…ALL…no exceptions.
What's there for my children?
We welcome kids in worship. However, for those who would prefer we do have a Sunday School program that runs concurrently with worship. All children are in worship for the opening; they may leave with their teacher after the choir sings.
You mentioned something about lunch afterwards?
You bet! It's always quite a spread. If you have the time please plan on staying for lunch after the service. It's important fellowship time for our church and a great way to get to know one another better.
WEDDINGS
We are delighted to perform wedding ceremonies for all couples, no matter their sexual orientation or gender. You do not need to be a member of our church to have your ceremony at VOTF. Our Fellowship Hall is also available for receptions. Speak with our pastor if you are interested.
BAPTISMS
Baptism is a Sacrament of the Church that celebrates God's gracious love, a love that forgives and hold onto us even before we can know or understand it. While we are happy to baptize adults or children who have never been baptized, it is our usual custom to baptize infants. You do not need to be a member of the church to have your child baptized at VOTF. Contact Reverend Quandt if you would like more information.
HOLY COMMUNION
Holy Communion is celebrated during worship on the first Sunday of every month. Jesus never excluded anyone from his table so neither do we. All people are welcome to receive communion at VOTF, no exceptions.