Valley of the Flowers United Church of Christ (UCC) was founded in 1962 by Reverand Richard Harris. The group soon built a distinctive A- frame church located at the corner of Constellation Road and Jupiter in Vandenberg Village, California.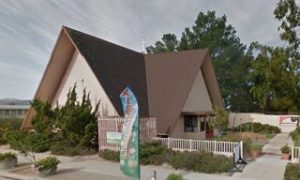 The church's other distinctive features include its round sanctuary, its pipe organ (the only one in Lompoc), its ethnically diverse and independent-thinking congregation, its first-Sunday communion service where everyone joins hands in a circle of fellowship, and its inclusion of a variety of music styles. Throughout the year we host the concerts of the Lompoc Music Association (LMA), a leader in classical music in our area, in our sanctuary.
The United Church of Christ, the denomination which nurtured Barack Obama, believes that God is still speaking. The Gospel never changes but the times do. Scripture then, must be understood in today's context.
Our church was among the first in Lompoc to call a woman as pastor and has long been sensitive to issues of understanding and fairness. The late Smiley Wilkins Sr., president of the local branch of the NAACP for two decades, was a leader in our congregation. He rests at Arlington.
In 2006 Valley of the Flowers UCC participated in a year of scripture study and self-examination before proudly declaring itself "open and affirming" with regard to gay, lesbian, bisexual and transgender pastoral candidates and members.
The church supports the Lompoc Food Pantry, the Marks House, the Bridge House, Community Kitchen, and Meals on Wheels. We also actively participate in the National UCC's four wider church annual offerings.